Beckhans 'Pays It Forward' With Gift To Hospice House
(Macon County News, Franklin, NC)
Lillian Beckhans becomes an angel for other Macon, Swain, and Jackson residents when she made her recent gift to the Hospice House Foundation of WNC, Inc. to build a Hospice House in Franklin, NC. She gifted to the Hospice House Foundation of WNC because she wants Hospice caregivers to be able to help the dignity of many clients as they are living their last moments in a pleasant, comfortable and safe environment.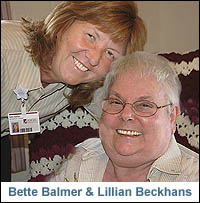 Bette Balmer, Hospice volunteer and bereavement coordinator, said that Beckhans will have a room named for her in the new Hospice House, when it is completed.
It will be called the 'Pay It Forward' room in honor of the woman who continues to pay it forward, giving hope to others from her bed at Grandview Manor, in Franklin, N.C.
In a Franklin Press article, Bette Balmer stated… 'rather than being the grim reaper, Hospice provides patients with a support system of people that care and helps them to live, even celebrate, the time they have left.
Our goal is to help them enjoy a full life for as long as they live……..we can't give them quantity, but we can give them quality. They are not alone anymore……Hospice helps take some of that fear away.'
Michele Alderson, President of Hospice House Foundation of WNC, says that the foundation exists purely to raise funds for the construction and endowment of an inpatient facility for the community. In this way excellent Hospice care can be fully carried out when a patient does not have 24 hour caretakers or able to be at home for their last days. Hospice House Foundation of WNC, Inc. Establishes Endowment (Franklin Press, Franklin NC) The Hospice House Foundation of WNC, Inc. has established the Hospice Foundation Endowment Fund at the Community Foundation of Western North Carolinas as a permanent resource for the organization.
Trackback from your site.